Pomatomyuck
In search of a little color in my life, last night I cast on for
Pomatomi
for my Sockapaloooza socks. This activity was accompanied by a rousing rendition of the Pomatomus Chorus. Handel rolled in his grave; Bailey covered her ears. But can I help it if Pomatomus and Hallelujah have the same number of syllables?
Anyway, I am discontent. The Pomatomus has a prettyish side: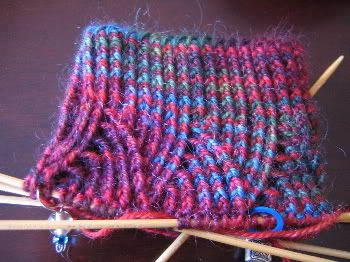 and a decidedly yucky side: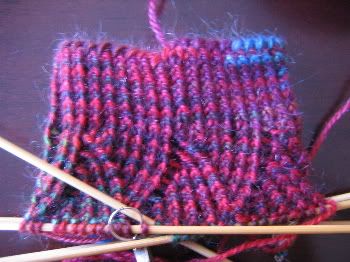 Now, as it turns out, I have to frog this little cufflet anyway. (Because I am too stupid to read a pattern, that's why. Oh wait, you mean you want me to knit with a particular size of needle? How unusual!) And it is possible that if I knit this pattern on #2s, instead of #1s, that the blue might disperse itself more widey through the sock, and I might be more pleased with the result. On the other hand, it might not. Also, the Bearfoot is not particularly sproingy, and the K2togTBL which you have to do 6 times every round? Murderous on the hands, and on the needles. So I'm wondering if this is really the best pattern.
Options:
1) Cast on for Pomatomus w/#2s, see where it takes me.
2) Go back to the Stitchionary and make up my own pattern. Which I already did try, but failed to produce anthing satisfactorily fishy, "tiny scales" notwithstanding.
3) Give up on the fish themed socks entirely and begin what will no doubt be a long and fruitless search for a pattern that encourages striping in variegated yarns. Hmm. I wonder where on earth I could find a pattern that does that?