Snug
It was 8 degrees outside today. Bailey and I stayed snug inside.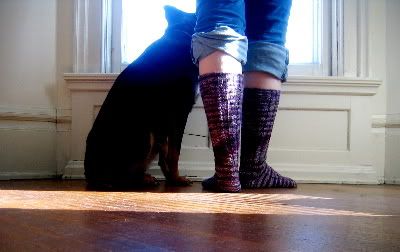 Specs:
Yarn:
Lorna's Laces Shepherd Sport, colorway Black Purl, 2 skeins
Needles:
Clover Bamboo, size 2 for feet, 3 for legs and 7 for bindoff.
Pattern:
My own.
Begun:
January 23rd
Finished:
February 17th
Notes:
Next time, I will be investigating elastic thread to carry along with the ribbing.
This concludes our experiment, never to be repeated, with Lorna's variegated colorways. Except for something utterly beautiful, which I will show you tomorrow. In the meantime, go say hello to
Philippa
. She's new in town.