In which I make an ass of myself at the Gap.
So I've been on a little clothing-buying spree lately, thanks to the Gap's debut of its new tall clothes--I know, I know, short people: it's hard for you too. But YOU CAN TAKE YOUR HEMS UP. I cannot magically add fabric where there is none. So, sweatshops shmeatshops: I've been buying a lot of stuff at the Gap.
The other day, the UPS man showed up with my new Curvy Flare Double Button Cords (hi, Curvy Flare fit! Love you!) but, to my dismay, they had obviously been returned-they were squished up inside already-ripped packaging, and, horrors, had been EMBROIDERED on. As in, somebody had started a half-assed embroidery project on the back pockets, got tired of it, and returned the pants. See?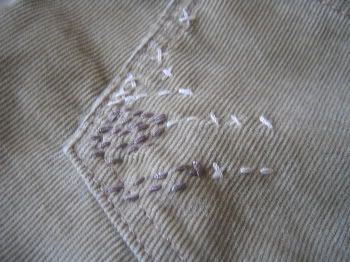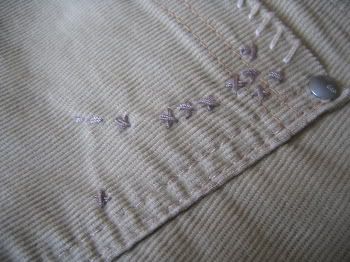 So today, since I don't teach, I marched over to the Gap in the mall (and don't get me started about how I have to order my clothes online, like some circus sideshow freak, rather than just buying them in the store in the first place, like normal people are allowed to do), plunked the pants down on the counter, and ranted about customer service and quality control and blah dee blah. To which the man behind the counter calmly replied, "Actually, they just come like that."
dammit.
But I ask you. First, does that embroidery look remotely professional, or like something you would want adorning your ass? And second, is there even one tiny word about back-pocket embroidery in
the description
?
I'm heading off to tackle that shit with my seam ripper.
Oh, and Lady Eleanor? She's blocking.