Find Me a RenFaire, Stat!
As
Cordelia
and
Elizabeth
guessed, the mysterious piece of entrelac from my last post is indeed Lady Eleanor. Six-and-three-quarters balls of Noro Silk Garden in, she is a respectable 43 inches--just over halfway to go:
(Look! The sun was out! It's an MLK Day miracle!)
The Silk Garden has a little bit of a saga behind it; I became quite obsessed with the colorway I knit my
wristwarmers
with, so when I saw 10 balls of it on Ebay for half price, I couldn't resist. Yay! Except, boo. Because I got the number wrong: I liked 86, and I accidentally got 82, which, although it has similar colors--blue, green, purple, berry, brown, grey--is quite a bit less vibrant: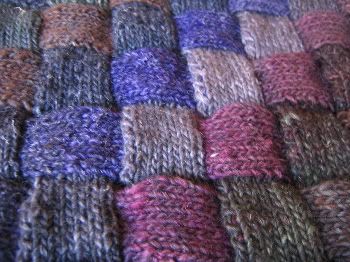 In the end, I decided that a more muted colorway was probably fine for Lady E, since she is a piece with quite a bit of inherent drama, but, as a compromise, I got 3 balls of 86, thanks to the lovely gift certificate to my
local
that Santa brought me, and am adding it here and there for a pop of color: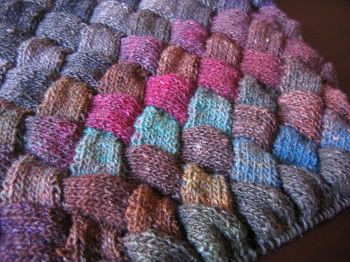 So. There's that. But now she's too big for bus knitting, and, since one of my New Year's resolutions is to take the bus to school instead of driving, I had to start a second project.
Remember
this
? After 6 mateless months, it's finally getting a friend.