The first Christmas Debacle
I planned to make these charming marshmallows to send to my friends in Austin:
Yum! Peppermint marshmallows! How good would that be in cocoa? Alas, the morning after the marshmallows were made and bagged (although luckily not sent), here is what I have: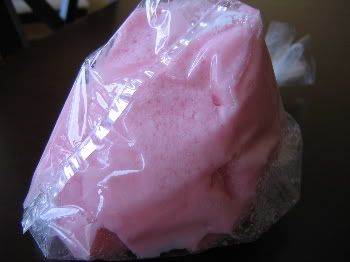 A bag of pepto-bismol colored smush. Not very gifty. Thanks a LOT, Family Circle.
On the other hand, that is probably what I get for making a recipe from Family Circle. I looked on Epicurious, and their marshmallow recipe is basically the same, but adds egg whites, which, I think, would make quite a difference.
Anyhoo, things are much more satisfying over at the
Secret Gift Blog
.