Oops.
I did it again. (Apologies for the sucky no-natural-light photography.)
The Shedir, she is in wool this time. And I still heart it just as much if not more. This will probably be passed on to my mom, as it is a titch big for me, but you know I'll make another one for myself.
SpecsPattern
: Shedir, by Jenna Wilson, from the Knitty Surprise, Fall '04
Yarn
: Patons Classic Wool in Aran (creamy white, rather than the yellow of the photo), less than one skein. Splitty as hell, but what do you want for 223 yards of 100% merino for $5.49 at the Meijer?
Needles
: Size 3 bamboo circs and dpns
Mods
: Knit 20 brim rounds, plus a turning row. Note to self: don't knit the turning row. It makes it impossible to turn the brim up farther if, say, your hat is slightly too big.
I also re-knit my Silk Garden mitts, which, as it turned out, were absolutely too big. I reknit them on 7s instead of 8s and took out 4 stitches. Then I got craaaaaazy and improvised some thumbs: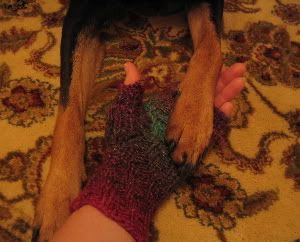 (When I put out my hand to take a picture of the mitt, Bailey gave me five. Awww.) I haven't woven in the ends yet because I'm not sure if they look very good, but in the end I probably won't care very much, since they add some cozy warmth, which I am so down with these days.
I'm off for Thanksgiving with the fam tomorrow and likely won't post again until next week. Happy leftovers, everybody!