49 degrees, clear skies
Nary a snowflake in sight. Keep
guessing
!
I made decent progress on Hourglass over the weekend: I finished the body (a second time) and one sleeve: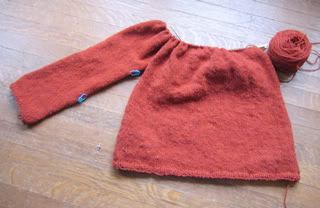 The folded-over hems on Rogue made me realize that I didn't want the bulk of two layers of aran-weight yarn around my middle, so I went looking for an edging that would lie flat but not be too obtrusive--I really like the clean simplicity of Hourglass and didn't want to do anything too fiddly on the edges--even seed stitch seemed disruptive. Luckily Anna posted the other day about
Annie Modesitt's slip-stitch edging
on the Backyard Leaves scarf from Scarf Style, so I adapted that for working in the round, and it looks pretty good, I think.
The working-in-the-round adaptations are
Row 1: *K1, slip 1 yif* to last st, K1
Row 2: slip 1 yib, *P1, slip 1 yib* to end.
It's not quite as elegant as it would be in a finer yarn (see Anna's silk Trudie edging), but it's stockinette-y enough that it blends naturally into the body of the sweater, and it does lie flat. Hurrah!
I made Bailey model the beginning of the second sleeve for you. Disregard the still-unpacked boxes of books in the background.