Weekend Knitting
In between bouts of grading, exam writing, and keeping-up-with-the-syllabus reading this weekend, I've been quite the tricoteuse. First, I started my Rogue sleeves. In the end I decided not to do them in the round, but only because it turns out that I only have one size 7 circ, and I was too lazy to go buy another one. Sad but true. Instead I decided to knit both sleeves at one time. Since I'm going to be tinkering with length (I need to add about 2 inches) I thought it would be a good idea to make sure I tinker at the same time and in the same places on both, and there is no guarantee that I will do that if I knit the sleeves separately, because y'all know that I am challenged with the maths. I'm at row 35 of the chart, which doesn't look like much, I have to confess. I console myself with remembering that if I were only knitting one sleeve I would have gotten twice as far.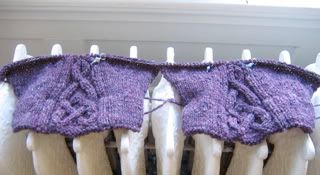 I also would've gotten quite a bit farther if I had not digressed into a new project: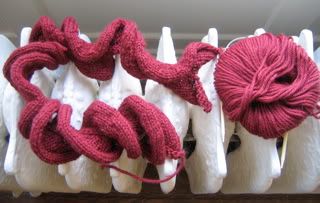 Ruffles! This was originally intended as a gift, but I am obsessed with it and feel that I might very well keep it for myself.
You might wonder why my radiator features so prominently in these pictures. It is to mark the fact that, much to my shame and disgust, I turned on my heat this weekend. The heat! At the beginning of October! But when you're sitting around the house in wool socks, a fleece jacket
and
a hat, and you're still cold? The heat must be turned on. But for the record, I only turned it up to 64. Take that, winter.