This Just In: Socks!
A super-soggy, super-crappy first day of fall: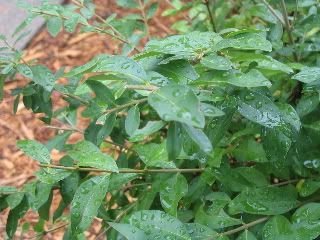 What could make it better? Why, socks, of course!
My sock pal turned out to be
Beth
, and she sent some incredibly pretty and comfy socks. Thay are made of Cascade Fixation, which I am a fan of, and they have a lovely lacy pattern: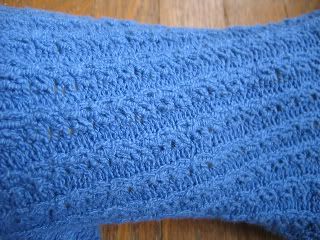 And as if such awesome socks were not a sufficient treat, Beth also included lots of little gifties with them:
The Harlot's second bookbookbook, fun sticky stars to use on student papers (well, she didn't say they were for that, but I might just do it to be funny), a pretty blue pouch, perfect for knitting accoutrements, and best of all, sone extremely useful miniature things:
A tiny calculator, perfect for those of us who cannot do the maths, a super-handy retractable tape measure, and a little pair of safety scissors, all of which were immediately transferred to my knitting bag after the photo shoot.
In short, Beth ROCKS, and also, she is redesigning the Union Square Pullover to get rid of the one feature I didn't like in that pattern, i.e. the weird flap on the neck. So not only is she a great sock pal, she is a woman of excellent taste.
Also rockin' and tasteful is , of course,
Alison
, who organized the whole shebang. Thanks Alison! I'm ready for Round 3!