Sockapal-2-za: Done and Done.
So let's say you want to block some cabled socks, but you refuse to lay out $30 for plastic sock-blockers, and your closets are devoid of
wire hangers
. What to do?
Meh. In the end, you just block them like any other damn thing: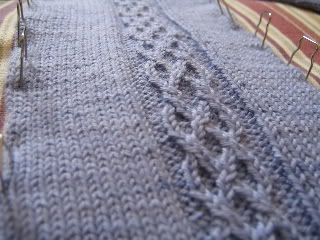 Yes indeed, my Sockapal2za socks are finally done. I ripped out the 2x2 ribbing at the top of sock 2 last night and redid it as 1x1, then decided I had made the ribbing too short and doubled the length, meaning that I also had to undo Sock #1's bindoff and add there as well. Let me tell you all: Lorna's Shepherd Sock on size 0 needles is not something you want to try picking up a whole lot of loose stitches in, because man, is it splitty. All its little plies separate with a vengeance, and it's never quite clear whether you're getting them all back on the needle because the stitches are tee-tiny. Not fun. And yet that is how I spent my Friday night.
Here's the final product, posing with a geranium. They're still slightly damp, but they have the weekend to dry, and then on Tuesday they will be in the mail to a faraway land.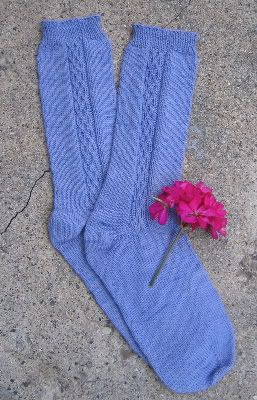 (I have no idea, by the way, why they look like they have weird striations in them in the photo. Things have not seemed quite right with my iPhoto since the Great Hard Drive Crash of '05.)
Final Project Details:
Name: Pretzel Cable Socks
Pattern: My own, with cable borrowed from Jenna Wilson's Shedir Hat (12 cable repeats)
Yarn: Lorna's Laces Shepherd Sock, Periwinkle, 2 skeins (with a good bit left over)
Needles: Size 0 Bamboos
Started: 7/11
Finished 9/2 (Shameful, yes--but I moved in the middle!)
Make it again? Probably, but I would add in some ribbing between the cables to increase elasticity.