141
That is how many unread Bloglines entries I had waiting for me when I finally, last night, got back online after a very unplanned hiatus, which was long enough that I managed to forget which login/password combos I use for blogger and photobucket. Picture it: Two days before leaving your home of six years to move to a small and, it must be said, somewhat unappealing (by comparison anyway) midwestern city where you know not a single soul, your computer falls victim to an insanely intense thunderstorm EVEN THOUGH it was plugged into a surge protector which was supposed to PROTECT it from power surges that would knock out the logic board and, oops, the entire hard drive. (Lesson: turns out you are supposed to replace your surge protectors every one to two years. Who knew? Go do it now. Seriously. Also, back up your hard drive, including your email archives, your photos, and your music, because otherwise they might all be lost to you forever and you will be super, super sad.)
Anyhoo, long story short, the computer is back, with its handy internets, so that I can now find things like the other Target, which I hope is not quite so sucky as the one Target I found and have been spending money at all too regularly since I got here. Isn't it weird how some Targets are the shit, and some might as well be Kmarts? Crazy world we live in.
You might think that with no computer I would have found myself with quite a bit of knitting time, but truth be told I have knit nary a stitch in the past few weeks-before I left Austin I was either packing or spending as much time as I could with friends, and now that I'm in Grand Rapids I have been unpacking and going to Target obsessively (because material posessions are my only friends). But now I am slowly settling in, and, not only do I have my internets, I have--glorious day--CABLE! For the first time in six years. It is like candy. Candy which is, luckily, conducive to knitting. So hopefully I will make some progress on something soon, like maybe my other Sockapal2za sock.
Since I have no knitting progress to display, I will instead leave you with two final Things I Will Miss About Austin. Vegetarians, avert your eyes.
5. Meat, Glorious Meat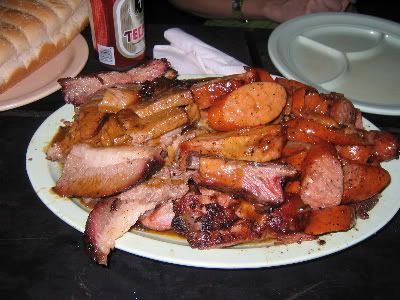 Austinites will recognize the pile of cow and pig here as a family-style plate at the
Salt Lick
. Sausage, ribs, and the best brisket ever anywhere. Love you meat! Luckily you can order it online, if you are feeling splurge-y and/or excessively sorry for yourself.
6. Friends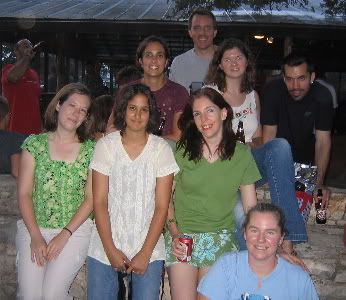 Sniff.