Sock Whore! Sock Whore!
A couple of weeks ago,
Dani
was auctioning off some of her beautiful hand-dyed sock yarn to benefit the
Preemie Project
, and I ended up as the high bidder. Which was awesome, because even though Dani posted the kool-aid formula for the yarn, let's face it: I'm way too lazy to do it myself, especially when somebody else has already done it for me. (And it helps charity, people. Charity!) Plus it was totally worth it because the yarn is so pretty. See?
I swear I only meant to wind it into two balls and put it in a ziploc so it could travel to Michigan safely, but I accidentally might have made a toe.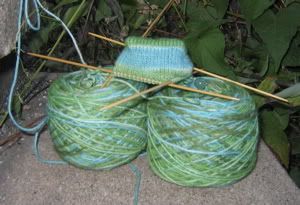 Because clearly,
two
pairs
of socks going at once are not sufficient.