Rounding second....heading for home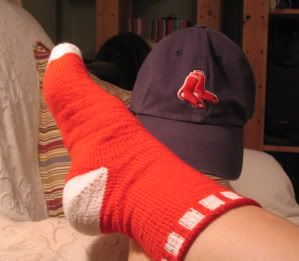 One down, one to go. Although I think I might redo the two-color ribbing: it's 4x2 right now, but I think it would be better as 3x1, and it maybe should be an inch longer for the proportions to be right. I already redid it from 2x2, though, so it might just stay as it is. We'll see how lazy I feel when I'm done with the second one.
Let it be noted that I was working diligently on this sock during the Sox-Indians game last night. I lapsed in the 8th, though, and put it down to rest my hands, at which point the Indians scored two runs to tie the game. I picked it back up and started knitting furiously, and as I did my boy Johnny Damon banged home two to cinch the win.
Behold: the power of the Red Sox Sox.