Crouching tiger, hidden...um, tiger?
Is it? Could it be?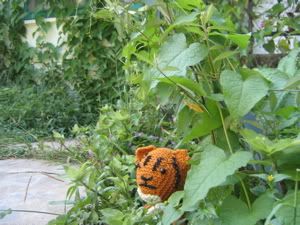 Ah, indeed. For the past five days we've been stalking this one, and here he is at last: the elusive Knitted Texan Tiger, in his natural jungle habitat.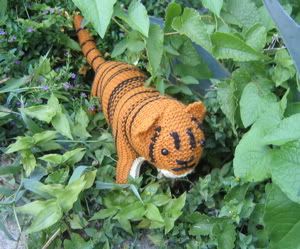 Though he looks rather more like a large newt than the feline he is, the Tiger is fearless, and will face down even the fiercest canine predators.
Sadly, this Tiger is extremely endangered, due to his pain-in-the-ass pattern, because apparently women in the 1940s had nothing better to do while sitting around waiting for the war to end than weave in a zillion ends and figure out what embroidered chain stitch is.
Luckily for the species, however, this Tiger will be residing in a protected environment at the home of my friend Vimala, who will defend her dissertation tomorrow. Yay Vimala!
Pattern
:
Tim the Tiger
, from the Victoria and Albert Museum's online collection of knitting patterns from the 1940s
Modifications
: I made his belly white, instead of orange. Much cuter, and more accurate.
Yarn
: KnitPicks Wool of the Andes. Two skeins Pumpkin, one skein each Cloud and Coal (These colors were perfectly tigery. But if I were making Tim again, which I wouldn't, due to his pain-in-the-assiness and overall resemblance to a salamander, I would find a fingering-weight wool, because as Knitted Texan Tigers go, he is really quite ginormous: 2 feet long from snoot to tail tip.)
Started
: June 10, 2005
Finished
: June 15, 2005
Recipient
: Dr. Vimala, PhD.