HATE YOU TEXAS
Here's a little snap of the thermometer in my car as Bailey and I returned from the park yesterday: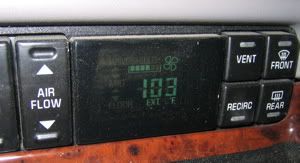 Why? Whyyeeeeeeeee? It is only MAY, people. It is not even SUMMER yet.
It is enough to make a girl not want to knit. But you know what's air conditioned? Yarn stores. Of which I went to two this weekend. I had to! Really! I needed more of the Reynolds Saucy for Via Diagonale, which they only have at the one store, and then I also needed Calmer, for my shrug, which they only have at the other store, so I was forced to visit both. I might maybe have picked up some other stuff too, like maybe some Lorna's Shepherd Sock and yet more Cascade, as a dissertation defense finishing present for myself: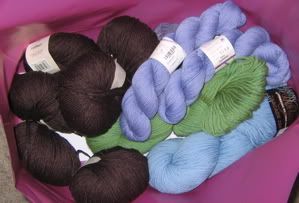 Speaking of which, thank you all for your kinds words on the dissertation front. Y'all know, right, that Blogger is a pain in the ass and won't show email addresses for commenters who don't have Blogger accounts, and sometimes, even if you do have a Blogger account, it won't show your address? So if you leave a comment here and I don't respond, it's not that I hate you or am ignoring you--it's that Blogger hates you.
Anyhoo, after several false starts this weekend having to do with sizing issues (One size? Does not fit all.), I've made about 6 inches of progress on the Calmer shrug. Voila:
I think it is going to be snuggly and pleasing, if totally unneccessary in 103-degree weather.