And I even have hair!
Shedir Drama Update: 18 rows to go and about 3 yards of yarn left. Things are not looking good for Homestar Knitter.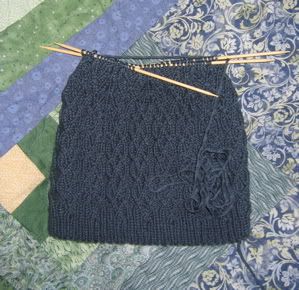 Sigh. But, and I can't decide if this makes matters better or worse,




my gauge might be juuuuust a titch off.

So, my choices are to bust into the second ball of Calmer for about 10 rows' worth of knitting, producing a ginormous hat that would probably fit King Kong (and people, my head is not abnormally small or anything--I just measured and it's 22" around), or rip back and do one less pretzel repeat and produce a more normal sized hat out of just one ball of Calmer, at the expense of much pain-in-the-ass work. Sigh. Neither choice is desirable, but I think I'm going to have to go with Door Number Two.

And speaking of Number Two, topping all this off is that when I was cleaning up after Bailey this morning I TOUCHED POOP. So I am off to scrub my hand with Clorox and a wire brush for the 86th time today.