Alphabet stamps=crafty
I sent off my stitch markers to my stitch marker pal today, and I was quite pleased with myself for my presentation*: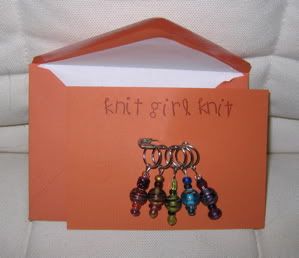 Mostly because it involved going to a store I absolutely adore, called The Paper Place, which sells expensive stationery and pens and wedding invitiations and such but also crafty items like rubber stamps. Which I bought. So now I can stamp words on everything I do!
I am sort of irrationally excited about that. The more so because the font is like little rodeo letters.
Anyhoo, I put a couple extra treats in with the stitch markers as well, so I hope she likes them. I do like making little gifts for people. I am hoping that SP5 gets rolling again, because, let's be honest, I want people to send me stuff, but also because I put together a good theme gift, if I do say so.
*Presentation, which, if I'm being honest, was totally plagiarized from
Gaile
, with whom I am currently involved in a swap for
this lovely item
.