Dissertation Sock the First
Since knitting was the only thing keeping me moderately sane and normal this past week (ok, and snacks too. Sweet, delicious snacks), I tried to make time every day to work on my sock. (Frieda went on hold briefly, since I cannot handle Thinking Important Thoughts and doing math at the same time.) The result? One finished sock: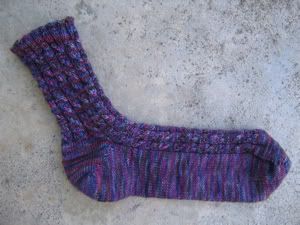 Now, this one looks a little short to me too, although it is definitely longer than the Big Blue Blobs. Here it is on:
Notice that I didn't sew in the end. I'm trying to decide: should it be longer? This is one skein's worth of Koigu, and I actually have three from this dyelot. I was planning to use one for each sock, and save the third for something else, like maybe the little faux-cabled bag from Last Minute Knitted Gifts that makes a handy and inexpensive present.
(Hi, Last Minute Knitted Gifts? Hi, it's Ashley. Listen, I totally love you and want to make everything in you, but are you on CRACK with your timelines for these projects? Who did you get to knit your test projects for you, magic elves who knit at the speed of light? I gave up on your estimates when the "two-to-four hour" wristwarmers took me an entire day of my life to knit, like, seriously, 9 hours, although I had to finish them because I had promised them to M for the next day. Anyhoo, just wanted to say that you are insane. Love you though! Totally love you!)
Right. Socks. Anyway, what do the peeps think? Do they need to be longer? Or am I just being a spaz? It's not unlikely that I am.
Finally, an interesting thing. Look at the 2x2 ribbing at the top vs the pattern stich: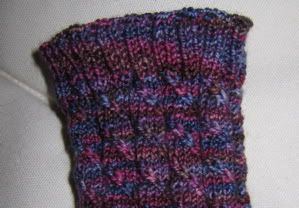 See that? It's pooling. The slip stitch in the pattern must have made it less noticeable in the sock overall, which I am glad of because I am not crazy about the pooling. Not crazy at all. But for those who like that sort of thing, Alison over at
The Blue Blog
is hosting a knitalong that is actually designed to
encourage
pooling. Takes all kinds, I suppose.