Only in Austin
I took this from my car yesterday on my way to a wedding.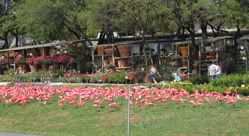 Those are plastic lawn flamingos, lest you be confused. I was endlessly amused by them.
At this wedding, but the way, the buffet dinner consisted of deviled eggs, potato salad, fried chicken, biscuits, and various pickled vegetables. It could not have been more delicious, and I highly recommend it as a menu for any of you who might be planning a wedding. Or dinner.