Houston, we have a penguin.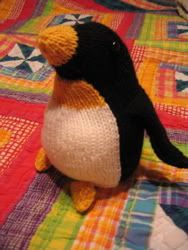 Good lord, that is a cute little penguin. The only real problem I had with making him was with the sewing up; I had to redo the section where the neck connects to his head a couple of times before it was reasonably straight. It's still a little askew, but not so's you'd care, if he were your penguin.
Here's a closeup of his belly. Notice anything?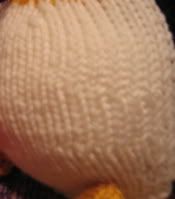 No Holes!
Compare to my sock, which uses the standard yarn-over short rows: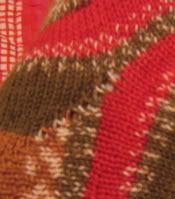 Holes!
Like I said, I'm sold.
Also new and exciting today: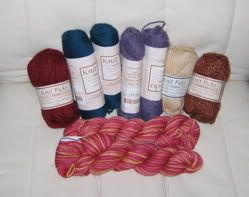 A little KnitPicks Sampler! That's one skein each of Elegance (oatmeal), Palisade (garnet) and Radiance Wave (hazlenut) and two each of Andean Treasure (lilac), Merino Style (storm) and Shimmer (Happy Dance). The one-skeiners are mostly for swatching; I especially want to see if I can make the Radiance Wave work as a sub for Debbie Bliss Alpaca Silk. The Andean Trasure and Merino Style--hmmm. Might be socks, might be wrist warmers. Who's to say? The Shimmer is going to be a pretty lacy scarf for a fabulous friend of my mom's who has cancer. She's having a pretty nasty time of the chemo apparently, and I though this would be cheerful. Seriously, how could a color called Happy Dance fail to cheer someone up?
On a sad note, I found out today that a stray dog I found last week and brought to our city shelter was put to sleep today. I am so bummed about this--despite having obvious signs of abuse and neglect (scars, choke chain that had to be cut off him, that sort of thing), the dog was such a sweet guy: he gave me a little lick on the hand when I gave him some water and biscuits, and when I went to the shelter later to bring him some rawhide chews and a blanket he wagged and wagged when he saw me . I guess he wasn't considered especially adoptable, though, since he looked pretty beat up. Plus, it's puppy season, which makes it all too easy to ignore the older dogs. So please, please, if you think you want a dog, adopt one from a shelter. M said today that next time he adopts a dog, he's going to ask specially for one that has a good temperament, but that people overlook when they come to adopt--I think that's a grand idea. I totally get the puppy lust, but there are probably dogs who need you more than the cute little puppies do. And they'll probably love you all the better for giving them a good home and a little love. Sniff.