Bailey
How could I forget? Please meet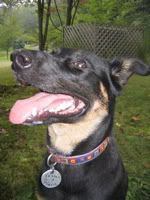 Miss Bailey Bean O'Sullivan. AKA The Bailer, Bay, Bailey-Whale, Bailarooney, Little Roo, Dingo, Dingaling, Little One, and Buttmunch.
Bailey's hobbies include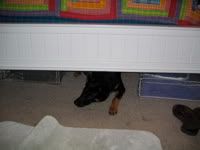 hiding under the bed and
trying to kick M off the couch.
Sadly, Bailey's hobbies also include eating DPNs, no matter how often I try to explain to her that they are not, in fact, sticks.