Seaming...not such a party.
Last night I started seaming Bella. I'm still waiting for sleeve #2 to finish blocking, so I thought I would get half the seaming out of the way and then have a smaller task staring me in the face later.
Much
later, please--I have to finish my chapter before I finish the sweater. It's just the way it is.
Anyway, I was very pleased, for the most part, with my side seams; they're neat, even, and, if you don't look too closely, nigh-on undetectable:
I heart mattress stitch!
The underarm and shoulder seams are another matter, however. Turns out it is not as easy to seam along decrease edges; there are a few lumps, and not all of the angle joins are as neat as I'd like them to be: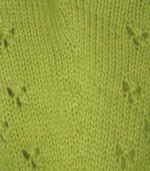 Somewhat lumpy.
Something to practice--I'm sure there's a resource out there that discusses this, but I don't have it (yet).
As for the shoulder seams, I am pleased as punch that they didn't pucker, because when I divided the bigger number by the smaller number to figure out how many side stitches to stitch per top stitch, I neglected to consider the fact that the top of the sleeve actually had more stitches than the shoulders--so picking up two or three bars from the shoulder wan't doing anyone any favors. Still, I think it came out ok, although a bit lumpy where the clover pattern was right at the top of the sleeve. I started in the middle and worked out to both ends, which I think helped keep things even.

A note on that clover pattern: I saw over at the
Lucky Clover Knitalong site
that lots of people are throwing down their needles in despair over this one. I say to you: do not despair. I ripped back that first sleeve about 4 or 5 times, but I persevered, and by the time I got to the end of the second sleeve, I barely even had to count stitches to stay in pattern. It's a pain in the ass at first, but you'll get it. And to borrow the ever-practical
Nona's
line, if Ashley can do it, so can you.
And for the record, I'm not Lucky-Clovering. I thought I would, but then I remembered wrap sweaters are just not that flattering on me. I should make a list of things that aren't flattering on me, so that I wouldn't have to remember these things on my own.