Bellissima!
I proudly give you my Very First Sweater: Bella
Pretty girl, no? There's no shot of it being worn because it's too big for me and hangs all funny when I put it on—a photo would not have done it justice. I'll have to try to get my mom to send me a picture of her wearing it.
Here's a closeup of the button, which I think is pretty: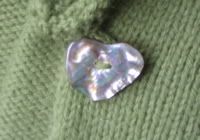 I got this button last year—someone sewed it onto the turtleneck of a store-bought sweater that they gave me for Christmas. I Goodwilled the sweater, but saved the button, and now I'm glad I did. It's hard to see from the picture but there's some green in the mother-of-pearl that goes perfectly with the yarn.
Speaking of, the yarn is the called-for Classic Elite Lush, a 50/50 angora-wool blend. I found it on Ebay, which is good, because I'm not sure I would have shelled out for it otherwise, and boy, am I glad I did. It is a yummy, yummy yarn.
As I mentioned a few posts ago, I made some modifications to the
pattern
.
As designed, Bella had 3/4 length sleeves, which my mom does not like.
(Personally, at 6'1", I am all about the 3/4 sleeve and the Capri pant, as I don't have to worry about whether they're too short. They are! But it's on purpose! My mom, on the other hand (who's 6'), just feels like bits of her are sticking out in ways they shouldn't be.)
So I knew I was going to make a full length sleeve, but then I thought that the flowy open lace pattern on the original probably wouldn't look so hot full-length. So I picked out the clover pattern from a stitch book, worked up a swatch, and then headed off to the
Knitty sleeve tutorial
and did me some math. And it worked out! I have to admit I was shocked. I also added an inch and a half to the body length, which I fear is something I am going to have to do for every sweater I ever make. Sigh.
So, what did I learn from this?


How to design a drop sleeve


How to knit a ruffle


How to work an easy lace pattern


How to redesign a pattern to meet my needs


I also learned not to be embarrassed about asking for help: when I realized I was going to have to redo the sleeve, I emailed the designer, Jillian Moreno, and she was totally generous with her time and interested in the project. I don't imagine that every designer is so available and helpful, but it's nice to know that there are real people behind these patterns, and that they want you to do a good job on them. Thanks, Jillian!
I also finished writing my chapter, by the way, but really, I am far prouder of the sweater.
Bailey is glad that I am finished with both. She's been sulking for the past two days: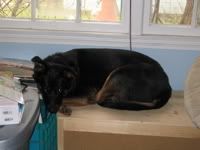 Poor weiner.