Almost there...
A ruffled sleeve....
A frilly lapel....
Bella's almost done!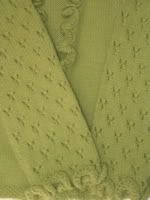 She's being coy because there are still many, many ends left to weave in, and I won't have time for that for a few days. But I'm through the ruffles, which almost killed me. Suffice it to say that it took me nearly two hours just to bind off the ruffle around the neck. Granted, I'm not the fastest knitter, but I think even a speed demon would have taken some time on this one, since by the end there were over 900 stitches to bind off, if my math is right (start with 228, double it twice).
It also--and I should have figured this one out--took a full skein and a half to create the sleeve and neck ruffles, so now I'm really glad I bought a lot of extra yarn just in case (original pattern called for 9 skeins; I bought 14). I still have 2.5 skeins, which I think will be more than enough to make myself the coziest, softest hat ever.