Socks: Take Two
I took a little Alias break from writing today and, inspired by Nona's
short row demos
and Shelby's
fancy new socks
, and guilt-ridden at the thought of the Baby Poo Socks being consigned to the Permanent UFO bag, I decided to cast on for a new pair of socks, one that I will actually finish, like, and wear. So far so good: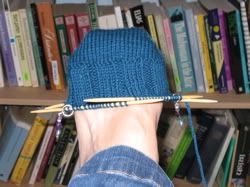 I decided to go toe-up (New! With More Instant Gratification!), but the instructions for the provisional cast-on in Simple Socks almost reduced me to tears (I think this was a product more of chapter-writing than the diagrams, but the diagrams weren't so hot either). So I trotted off to my friendly internet and snagged Wendy's
toe-up sock pattern
, which starts with a crochet cast-on. Yay! It worked. (Obviously--it's Wendy's pattern. But never overestimate my skills when it comes to anything involving crochet.)
Anyhoo, the yarn is KnitPicks Merino Style in Storm, a nice solid teal. So far....hmm. When I read the
Knitter's Review writeup
of these yarns, I thought I detected a little bit of hesitation, and I know why now. Overall the yarn is nice enough--it's warm and soft, and it seems like it will wear well. Obviously, you can't beat it for the price, and that's really the bottom line--if I needed a sweater's worth of DK yarn I would certainly buy this. But the plies are really loose, and it's super-easy to snag them, even with relatively dull bamboo needles. And next to my favorite merinos--Karabella's Aurora 8 and Koigu--this yarn just doesn't have the bounce, the sheen, the crispness, and the overall niceness to knit with that those yarns have. So, buy it for practicality (I plan to), but I would suggest that if you have a really special project, spring for a more expensive yarn.
Meanwhile, I just turned around and caught Bailey sound asleep with her tongue sticking out. This would be cuter if she didn't look a little bit, well, dead: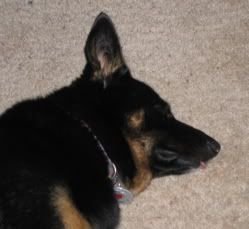 PS: Nerds of the World Unite! Who can pick out the books on the shelf behind my foot? Winner gets a slightly used ball of sock yarn in pink, green and baby-poo brown.