One Sock Two Socks Done Socks Blue Socks
The Merino Style Socks are finished! My very first pair of socks.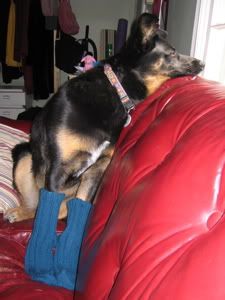 Do I even need to tell you how unamused Bailey was by this? And yet I found it endlessly funny, especially since when this was taken she was growling fiercely at a cat outside. Poor Bailey. It's hard to be fierce when you're a dog wearing socks.
So these socks, they are....warm. Sturdy. Serviceable. In short, they are quite boring--a 5x2 rib in a relentlessly solid color. My next socks, however, will not be boring. How do I know? Because they will be made of this:
Yum.