Oh Glorious Day
Yes, yes, I know I'm posting twice in one day but it is because I am SO EXCITED.
A quiz:
What turns this: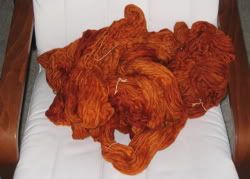 into this:
in under an hour?
Yes, mes amis, it is my new most bestest friend ever, the ball winder.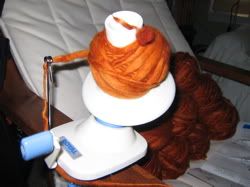 JoAnn's was having one of those 50% off sales, so this little baby only cost me $25--which is by far the best price I've ever seen for a ball winder, even on ebay. It's totally delightful and easy to use, and has enjoyable Japanglish instructions ("Thrust it in over a boss positioned at the reverse side of the base until clicking"). If you don't have a ball winder, I would so highly recommend picking one up, especially if you are a cheapskate like me and can find a 50% off coupon at JoAnn's. I know, I know, you can use your mixer and spend no dollars--but where's the Japanglish in that?
Now all I need to be a perfectly happy woman is a swift.
That yarn up there, by the way, is HandPaintedYarns bulky merino in Rhodesian. I was afraid it would be some godawful gold color but instead it is a yummy burnt orange, like caramelized carrots. I am so looking forward to knitting with it, vinegar stench and all.