Sweet Home Massachusetts
Hi y'all! No blogging this weekend, since I was out of town (not much emailing either, so if I owe you an email or a blog comment, hang on, it's coming!). My parents asked my sister and me to come home for the weekend and do that morbid thing where we start laying claim to the stuff we want after they're dead. Since they're retiring and moving out of their house, this was probably the last time that I'll be in my hometown, the unlovely Worcester, MA. Which, on the one hand, there's absolutely nothing calling me back there. On the other hand, it is weird to know that it's completely unlikely that I'll ever go back to the place where I grew up. Huh.


Anyhoo. My time away was used wisely, as it turns out that socks are the ideal plane knitting: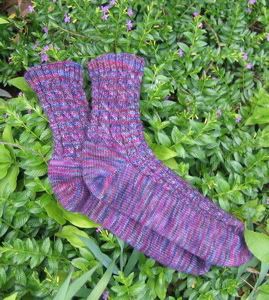 The dissertation socks are done (although sadly the same is not yet true of the wretched dissertation revisions. Soon! Soon!). Here's a closeup that shows the stitch pattern and also demonstrates that the socks go oh-so-nicely with jeans: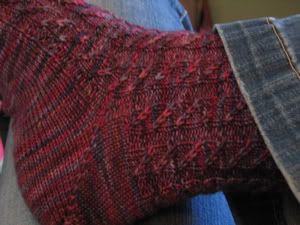 And finally, by popular demand, Bailey In Ocks*


Do you see how her face so clearly says, "You brought me home from that wretched kennel only to put me in ocks? Thanks a lot."? That is totally what it says.


*(Because only weirdos put their dogs in socks).