Gifties!
The most exciting part about being away was that when I got home, I had all of this waiting for me!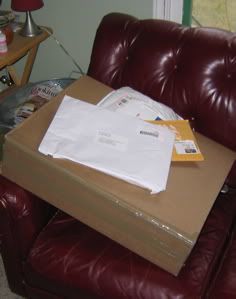 Sooooo many packages. I heart the mails, I must say. They are even better than the internets. Here's what I got.
First of all, from my stitch marker pal Brenna, these very cute ocean-themed markers:
I especially heart the turtle, which is a little blurry here. Sorry, turtle. And thanks, Brenna!
Next, from Gaile, this booty:
There's some cute knitting-themed notecards, some more lovely stitch markers (single beads, which I love because I can use them to mark the beginning of a round and not get them confused with my other ones), and some gorgeous softy soft sock yarn, which is awesome because I scored some back issues of IK from my mom when I was home, so I can finally make the Retro Ribs I've been coveting very covetously. But best of all there is the main object of the swap, the Knit a Square Make a Toy book, featuring a charming knitted polar bear, who is knitting the very scarf that is wrapped around his neck. It's so meta. Fear not--you will be seeing pictures of many things from this book on this blog in the future. (There's a pony! And two different dogs! And a kangaroo!) I think this swap turned out very well--I sent Gaile a bunch of Austin foodie things, and I hope she likes it as much as I like my package!
And then finally, this amazing gift, with an put-out looking Bailey for scale: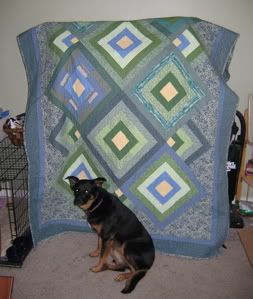 This was made for me by a family friend as a graduation gift, and I am just in awe of it. I'm not a quilter, but I'm sure that this took weeks and weeks, if not months and months, to make. So incredibly thoughtful and I can't wait to snuggle under it on a chilly Michigan night. Thanks, Mrs. Sprunger!