Shedir? I don't even know her!
Oh, I am soooo funny.
So here, after all the drama, is the lovely Shedir: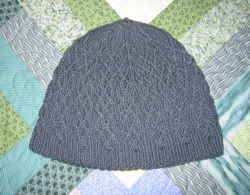 And a view from the top: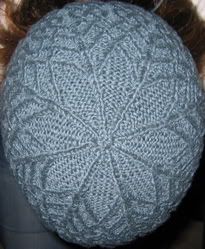 How cool is that? (Meanwhile, it is much, much harder than you would think to take a picture of the top of your head. Go on, try it.)
Deets:
Pattern

: Shedir, by Jenna Wilson, from the Knitty Fall Surprise 2004.
Modifications

: Completed only 4 main cable repeats rather than 5.
Yarn

: Rowan Calmer, Peacock, less than one ball (about 15 yards left over)
Opinion?

Looooove it. I will make this hat again for sure. The cabling got much easier as I went along--I found the rhythm somewhere in the 3rd repeat and it was all downhill from there (except for the part where I had to frog half the hat and redo it.) I was going to return the 2nd ball of Calmer, but instead I am going to use it in conjunction with the remnants of the first ball to make a version for myself with longer ribbing, so I can turn it up, and then I am going to make another one in the leftover Lush from Bella. I'll probably make some for Christmas gifts too. My only complaint is that I couldn't avoid making little holes on the increases between the ribbing and the cables, which you can see quite clearly right in the middle of my forehead here: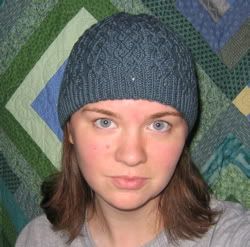 (You can also see quite clearly how many late nights of dissertating and knitting I have had lately. Hello, undereye bags!)
To sum up: Shedir? Me likey.