I'm SEW crafty!
Come on, like you didn't see that one coming?
Last night I tackled the sewing. And here is what I have to say: Sewing is totally fun! And takes sooooo much less time than knitting! Why didn't anyone tell me about this before? Here's what I kicked out last night, with the help of Mariko's great
pattern
: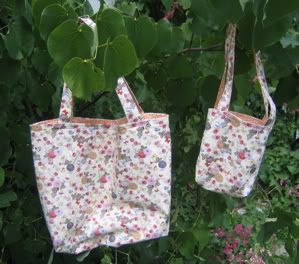 Two super-cute tote bags! The bigger one (about 12 x 18) was a practice project for me--I didn't want to mess around with the lining for my advisor's bag or with that Amy Butler fabric until I felt pretty sure that I wouldn't screw things up. I'm really happy with how it came out though, and I love the two fabrics together: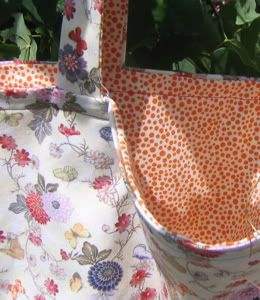 Then I got all show-offy and decided to make a second, smaller one (5 x 7) as a birthday present for a friend, and kicked it up with some decorative stitching:
Like little sharks' teeth! I'd take credit for the cute, but you know what? The sewing machine did it all. Yay sewing machine!
Next up: zippers. Wheeee!