Is it still Sleeve Island if you only have sleeves?
Here I present evidence that I am indeed participating in what
the fabulous Anna
has referred to as our non-committal, "meh"-type shrug-along. Which I quote directly from her because it made me laugh and laugh. And is true.
The directions for this shrug say that it is sized for a "close, body-conscious fit." Yeah--if you're an Olsen twin, maybe, or Lindsay Lohan. Those of us with the boobies? Need to do a little work. So here we are, after much knitting, tinkering, resizing: the first half of the Regency Defense Shrug: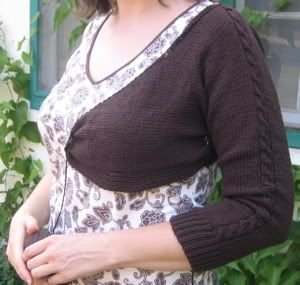 During the shoot that produced the above photo, Marc also captured this massively charming shot of Bailey, with which I will leave you for the time being.
"Please put treats in my red bone!"