About freakin' time.
Oh, Memorial Day weekend. What a lovely barbecue-y, mini-golf-y, poker-winning-y (ok, second place, but $10 is $10) weekend it was. And yet all those activities somehow prevented me from working as assiduously as I might have on my shrug. But last night I stayed up until 3 AM knitting and seaming, and finished everything up today while waiting to get my oil changed. Yay responsible multitasking! Here's the result (and please pardon the lint on the mirror--I actually bothered to wipe off the toothpaste spots for y'all but then forgot to do a second pass for paper--towel detritus):
I think it's very cute, although try explaining the shrug, as a concept, to a room full of non-knitters who don't shop much. (Marc, trying to be helpful: "So it's like a halter top that makes people look at your boobs!")
I also think the tank top I am wearing under it is cute, and damn if I didn't buy it yesterday at the Target specifically so I could wear it with the shrug. Come to think of it, I might have bought quite a few things yesterday at the Target, including the barette that I am temporarily using as a shrug pin:
I think it works, actually, although it is definitely more in dress-down mode. A fancier pin might make the shrug fancier as a whole, although Calmer really produces a more nubbly, homespun-looking fabric that probably isn't going to ever be super-dressy. I think this would have been a whole different garment if I had knitted it in the recommended Soy Silk.
Hmm, but perhaps a gerber daisy will dress it up?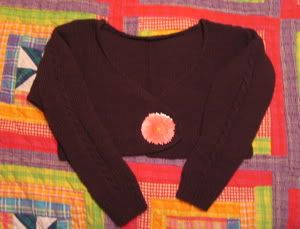 Thanks secret pal!!
Final deets on the Regency Defense Shrug:
Pattern
: Regency Shrug, by Mary Jane Mucklestone (from the Summer 2005 IK Staff Project), with modifications to make it fit a non-Olsen twin (so much so, in fact, that I added 10 inches across the pattern from cuff to cuff and about 3 inches vertically)
Yarn
: Rowan Calmer, Coffee Bean, 4.5 balls
Started
: May 25, 2005,
Finished
: June 1, 2005
Recipient
: ME! To wear to my dissertation defense.