No, seriously, ABOUT FREAKIN' TIME.
Ladies and gentlemen, after 8 years of graduate education (2 for my master's, 6 at UT), I am finally, officially, permanently done. As of Friday at 12:30, I'm an honest-to-goodness PhD. It's liberating, but also scary. Because now I'm a grownup, and grownups have to go to work and stuff and not spend whole days knitting. Which is what I'll be doing for the next little while, thanks very much, because did I mention? I'm done.
And how better to celebrate than with a little fiber shopping? Ah, but not my standard fiber. Nope. Today, it was all about fabric.
First, I wanted to find a lining for my now all-but-finished Via Diagonale. I've got everything done except one handle, and I need to take a break before doing that because I totally have knitter's claw, thanks to the unforgiving cotton plus the 18 miles of applied i-cord around the top of the bag. So here's the almost-done shell of Via, plus the fabric I chose for the lining.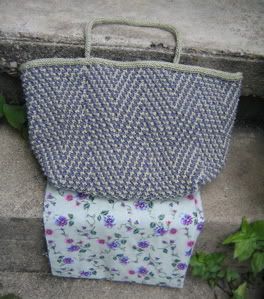 I'm not 100% sure it's the right choice--but I looked at every single purple & green bolt at the Joanne's, and this was the only one that seemed close. So we'll see how it goes--if it's awful I'll go back to the drawing board, but I would like to give this to my adviser sometime this week, so I think I'll probably end up living with it.
So that was one fabric mission, but I also wanted to make a couple things for myself. First, what I think will be a tote bag a la
Mariko
. I need an official knitting bag, and this might be it: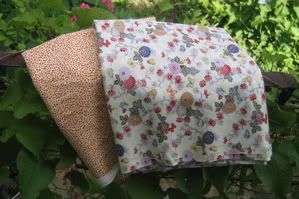 I'm hoping there will be enough left over to make a little notions bag to go with it.
And then--I totally saved the best for last--this Amy Butler extravaganza to make a needle case for my DPNs, of which I have a rather rapidly growing number.
It'll be based on the one in Stitch 'n' Bitch--I made my sister one for Christmas and was pretty happy with how it turned out. But I think I want this one to be double-tiered, and maybe have some extra pockets for stitch holders and such like.
And then finally, because there hasn't been one for days and days, a gratuitous Bailey shot. She got her summer haircut today and looks small and naked and super-cute--and feels like a Steiff bear.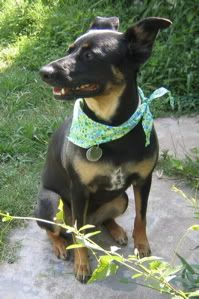 She won't be quite that cute for long though--her reward for undergoing the torture of the groomer is that I will tie that bandanna into a tug toy and she will destroy it. (Meanwhile, I'm all, that fabric is kinda cute...)
That's all for now--there was some fiber shopping of the other kind too, and some knitting- and Bailey-related graduation presents to talk about, but those will wait until I've caught up on all my emailing!