The Socks of Summer
First, thanks to all who weighed in on the bag lining question. I know I'm being difficult and whiny. But I hate the feeling of giving a gift that's not quite right--especially after I went to all the bother of knitting the outside. So I've decided that I will make one more fabric expedition tomorrow, and look for something cream-colored, perhaps with small purple flowers, and if that doesn't work, I'll just go with what I have.
My sewing fervor has not abated over the past few days, and I have made a few things that I am pleased with, but I decided to venture into zippers yesterday and things got lumpy and botchy. I am determined to conquer the zipper (buying a zipper foot for the machine might help), but after a particularly disatrous stab at a zippered pouch, I decided I needed my feet on the ground again, and cast on for this totally fun project:
Red Sox Sox! I am so pleased at the thought of having them, which you will absolutely understand if you are part of the Nation, but will probably think I am crazy if you are not. I actually bought this yarn (Cascade Fixation) at the beginning of baseball season, but am just getting to them now. It's fine--they'll still be done in time for when it matters.
Now, the thing is, I think I'm going to rip them and start over--I forgot to compensate for the extreme stretchiness of Fixation when I calculated my cast-on, so they're just a bit too big. But before they go, I thought I would show you The Most Perfect Short-Row Toe Ever.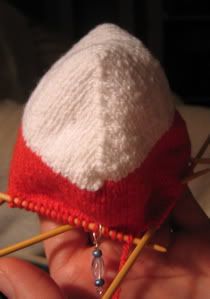 Isn't that pretty? I think I've finally got it nailed, which is good news for my Sockapal2za partner-to-be.
I'll leave you with an extra closeup, so you can admire its goodness. I'm actually a little afraid to rip, for fear that I'll never do such a good job again....