Opinions Please!
I sewed up the lining for Via and pinned it in in preparation for (ick) hand-sewing it, but I'm still not sure it's quite the right thing. But I'm pretty sure that part of my hesitation is that I have a pair of pajamas that have a fairly similar print to the lining material, so every time I look at it I think, what are my pajamas doing in there? So, objective readers, what do y'all think?
Here's how it'll mostly look when it's being carried around (it looks a little lumpy b/c I need to shorten the lining a bit):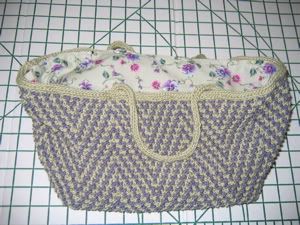 And here's a closeup.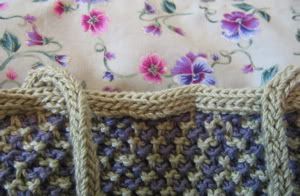 So: Yuck? Good? Good enough?
Generally non-commenting Austin friends, feel free to weigh in here, since you actually know the recipient.