Not so knitty.
First, apologies if you've commented/emailed in the past few days and haven't gotten a response--my gmail account is acting up (half the time I can't get it to load in either Firefox or Safari) and I haven't had the patience to deal with it recently. So, a general thanks for all the nice comments on Tim (who is now renamed Richard Parker, and is presently engaged in terrifying Vim's cat Friday) and on Bailey's b-day--I know I'm a dork, but it can't be helped. Everyone else who celebrates their pet's birthday, you have my full support.
This weekend was full of many things, but most of them were not knitty. Instead, there was eating and drinking and celebrating and realizing how much I'm going to miss all my friends when I leave Austin. Which is why I don't necessarily feel like knitting right now: what I really like about knitting (most of the time) is that it keeps the hands busy while leaving the mind free to think, which is great when you're trying to, say, write a dissertation. It's less good when all the things you're thinking about are sad.
That said, I did make progress on a Red Sock, and re-applied the i-cord to the top of Via, picking up only 3/4 of the stitches, which seems to have fixed some of the sloppy sagginess. We'll see once it's re-lined.
And I am also wrestling with an all-too-common dilemma these days: what on earth to make for my Sockapal-2-za pal? First of all is the issue that my pal is a SERIOUS knitter--like, so good that I probably wouldn't have even signed up if I knew I would get someone that good. But it is done now, so I will fight the intimidation. So I have to decide which way to go: my pal specifed that she mostly wears socks in a plainish color, and would like cables, but that a bright loud pair might be fun also. Enter the contestants (both from stash; I'm not ruling out a trip to the store, but it would be nice to use what I have):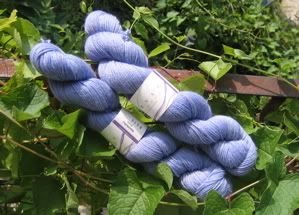 Periwinkle Lorna's Shepherd Sock. I'm thinking for these I would borrow the pretzel cable from
Shedir
, and work it up the sides.
VS.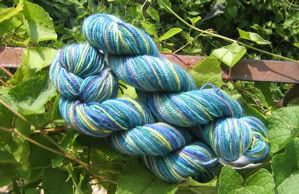 Koigu KPPPM Colorway 411. For these,
Broadripple
.
Either sock would be pleasing for me to make: I would like the cable practice, but I also do need to re-tackle lace as a concept, and Broadripple would be a good start.
What do you think? My feeling is that if someone says that they mostly wear plain socks, then they mostly wear plain socks, and that is what they should get, because they might think they want a bright loud pair, but they probably don't. Thoughts?