Hole-Free Short Rows: A Little Tutorial
So if you've been here for a while, or if you've plowed through the archives, you might know that I used to have a big problem with holes in my short row toes and heels. Big holes.
Gaping, ugly holes
.
But
no more
!
Several people have emailed or commented and asked how I got over the hole problem, and I emailed them back, but realized that it might be easier to see what I'm talking about with pictures, so I made Marc take 186 pictures of me knitting and threw together a little tutorial.
First, three disclaimers.
a) I have no idea if what I'm doing here is "right"-but it works for me. Your mileage may vary.
b) This may be old news to many of you, in which case roll your eyes and go about your business--but I'm still such a newbie knitter, even after 4 years or so, that I need little tips and techniques like this, and I hope it's helpful to other people like me.
c) This is not a tutorial on wrapped short-rowing in general. For that, see Nona's excellent
tutorial
, Wendy's
toe-up sock pattern
, and many, many other sources. I'm just going to tell you what I do when I get to the wraps. Which is this.
1. Knit until you hit the wrapped stitch you want to work:
2. Slip the wrapped stitch to the right needle: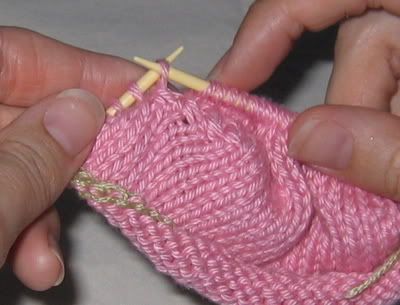 3. Use the LEFT needle to enter the two wraps from the LEFT: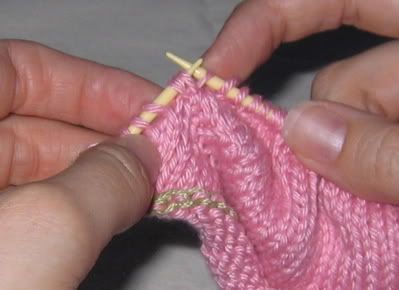 4. Slip the wraps onto the right needle. All three stitches--the original stitch and two wraps--are now on the right needle: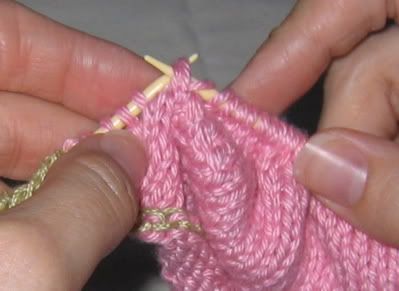 5. Use the tip of the left needle to tease the original stitch out from under the wraps: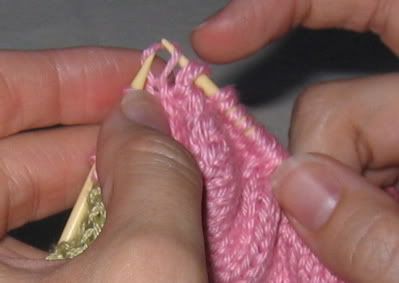 6. Replace the two wraps on the left needle: the three stitches should now be stitting separately: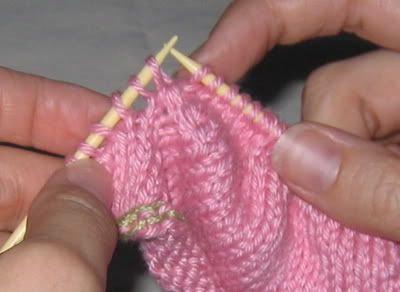 7. Knit the three stitches together through their BACK loops: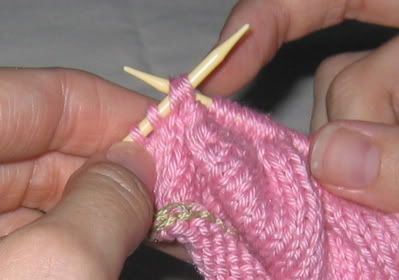 8. Admire your neat decrease:
For the purl side, same deal, but purl normally, through the front loops.
This looks like a lot of annoying steps (Marc: "How do you remember all of that?" Me: "Because I'm a GENIUS, honey, that's how."), but it's really quite fluid once you get going. It does take a bit more time than just picking up the wraps with the right needle and K3-ing, but I think the finished effect is worth a little extra time. Because, you know--no holes.
Questions? Suggestions? Inprovements? Lay it on me.