Me? Impatient?
Yeah. To no one's surprise, there was no Pakucho Organic Cotton at the yarn store, but honestly, I did not feel one little bit like waiting around for it to be shipped (even from speedy Elann-love you Elann!), so I did what any sensible & impatient knitter would do: bought a skein of Knit 1 Crochet 2 Cottonade and just finished the thing off in a different color (a la
Anna
, but without the flair). The jury? Out.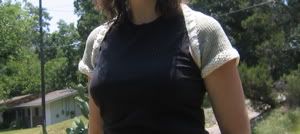 I don't know if it's the pattern, the yarn combo, or what, but I'm just not really feeling it. I'll sit on it for a while, but I might send it to my sister to see if she likes it better than I do.
Speaking of my sister, June 28 is a double party in Nothin' But Knit-land: it's my sister and brother-in-law's anniversary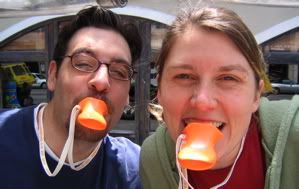 Who doesn't love a Duck Tour?
and Marc's birthday (29! Such an infant.)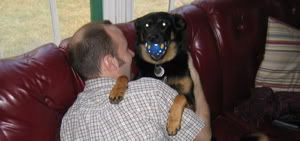 Bailey says, "I love my Uncle Marc so much it makes me pee! But not on the couch."

I'm off to make some key lime ice cream to celebrate.