One skein my ass.
This weekend I thought I'd jump on the knitblogger bandwagon-du-jour and whip out a One Skein Wonder (do you really need the link?). Alas, I was TOTALLY THWARTED. Because I did figure I would need more than one skein, so I bought two of the Pakucho Organic Cotton from Elann while I was buying some other stuff for a project to be discussed later, thinking that since I needed 175 yards for my size, and 2 skeins of the cotton was 176, I would be a-ok. Tight, but OK.
Nope.
Here's how far I got: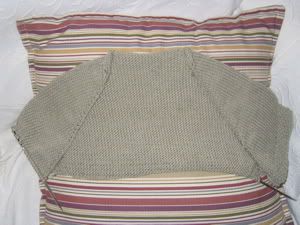 The seed stitch of one sleeve got done, but barely. Here's how much yarn was left after I bound off:
The other sleeve and the ribbing remain unfinished. I have to go out to do some errands this afternoon, so I think I'll pop into the yarn store to see if there is any chance that they carry this yarn, although I'm pretty sure they don't--so I'll have to wait for another shipment from Elann before I can finish this up. Luckily, they ship fast, because this is going to be a very cute and useful little shrug, albeit tee-tiny.