Thanks Secret Pal!
Bailey and I came home from the dog park this morning to find a very exciting Secret Pal Package waiting for us! (I say "us" not (just) because I'm a crazy dog lady but because there were presents for Bailey too).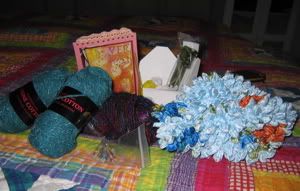 Look at that! Beautiful Mango Moon sari yarn, pretty cotton yarn in a tweedy teal (perfect for socks!, a set of homemade stitch markers, a cool card with a knitted border that will be very handy as a bookmark (pal, you're going to have to tell me how to do that!), and that puffy blue thing in front, which actually turns into a whole entire tank top!
And there was also salt water taffy, one of my faves, and something you don't really get in landlocked Austin, and best of all as far as Bailey is concerned, GREENIES! Bailey loves a greenie, but, since they cost an arm and a leg, is normally only allowed to have them after she eats gross stuff like cat poo because I cling to the belief that they actually clean her mouth out. Because they're toothbrushes, see?
That was a freebie, by the way--no cat poo was consumed before the eating of that greenie.
Thanks Secret Pal! I can't wait to figure out what I'm going to make with the yarns...