The yarn. It was definitely the yarn.
Because I totally heart this version of the OSW: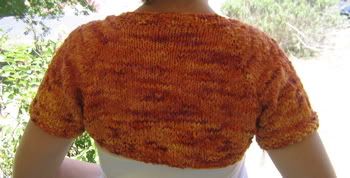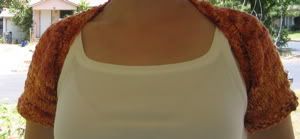 I tinkered a bit with the pattern, too (longer sleeves and such), so maybe it was the pattern a little bit, but this yarn--I want to knit everything in it now. Don't you think it would look fab as an Hourglass? Although it would be a bit heavy, probably.
Anyhoo, it is
Araucania Patagonia Nature Cotton
in Colorway 204, according to the tag, although it looks like CM20 on their website, and it is gorgeous oranges and raspberries, like a blood orange. I saw it when I went to the store to get the yarn to finish the other OSW (which shall be frogged as my sister rejected the whole concept of the OSW) and was totally possessed by it. The only problem I had was that the skeins were so tangled that they were absolutely awful to wind--one took almost two hours, which, considering that there are only 100 yds/skein, is QUITE a long time. It did not reduce me to tears, but it was a close thing.
So, deets:
Pattern:
Glampyre
's "One" Skein Wonder Shrug. I added length to the sleeves and to the body by knitting back and forth on those sections after finishing the increases.
Yarn:
Araucania Patagonia Nature Cotton, Colorway 204, 2 skeins and change
Needles:
8s for the main body and sleeves, 5s for the seed-stitch on the sleeves, and 6s for the ribbing.
Started:
Tuesday, June 28
Finished:
Thursday, June 30
And for those of you who enquired about the Key Lime Ice Cream, it is a recipe that I adapted from Cooking Light. You need an ice cream maker to make it, technically, although I've always wondered what would happen if you just whipped up the mixture in your kitchen-aid or something and then froze it. But I digress. You'll need:
2 cups total of variously fatty milks
. I like to use 1 1/2 cups 1% milk and 1/2 cup heavy cream for reasonably good mouthfeel and slightly lower fat.
1/2 cup bottled key lime juice
, unless you are feeling insane and want to squeeze your own.
1 can of fat-free sweetened condensed milk
Don't forget to scrape out all the extra out of the can and eat it straight from the spoon, even though you will feel a little sick after.
dash of salt 1 box Junket Vanilla Ice Cream Mix*
Usually available in supermarkets near the ice cream toppings section.
approx 3/4 cup crushed cookies
. There is some debate over what kind of cookie works best. Some people are graham purists, although I really like it with Pepperidge Farms Gingermen. Pepperidge Farms Bordeaux are also good. Suit yourself. And put in more than 3/4 cup if you want--I usually do, but it seemed piggy to call for more than that in the recipe.
Mix the first 5 ingredients together, chill for an hour, then add to your ice cream maker. When the ice cream is almost frozen enough, mix in the cookies. Pour into a container and freeze for two hours, then eat.
*I personally do not find the ice cream mix to be an essential component of this recipe. But SOME PEOPLE, when the store is out of it and you make the ice cream anyway because it was their special birthday request, will be all "groooooooooooss!" and "why even booooooooother?" and "it's not the saaaaaaaaaaaaaaaaaame" if it's not there, even though they are turning 29 and not 5. Ahem.