Things I Will Miss in Austin (Part 1)
Since I'm leaving here soon, I thought I should record some things that I will miss most when I am in Michigan (less than a month now!). Perhaps a weekly Thursday installment?
First, the #0 breakfast taco at Mi Madre's, aka Nature's Most Perfect Food:
I don't know where they get their bacon from, but my best guess is Heaven.
Also, the Michelada at El Chile: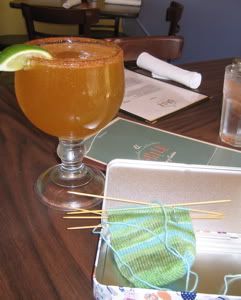 If you aren't familiar, the michelada is a mixture of beer and lime juice, seasoned with chili rub. It is delicious, and at El Chile it comes in what is referred to as a "schooner." I will say only that I need two hands to lift the schooner safely.
You might have observed that the michelada is hanging out with my Dani's Earth Day Yarn sock. The Broadripples are coming along as well, but the Earth Days are better traveling companions since they are straight stockinette and require nothing in the way of maths. (Yes, I consider counting math. That is how I am.) I am currently carrying them around in a pencil case that I found at Borders and am completely enamored of:
It's the perfect size for 7" DPNs, and in case you didn't notice, it features a warthog wearing a dinner napkin: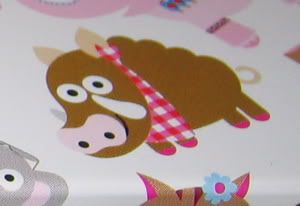 Tres charmant!
(I'm focusing on charming and delicious things here as a means of forgetting what happened in London this AM. But in truth I have been sick and sad all day because of it. And listening to Bush pontificate about "bringing the culprits to justice" makes me feel nauseated and miserable--almost as miserable as the attacks themselves. These are not good times.)