My Genius Dog
For a graduation present, a bunch of my dear sweet friends gave me a month's worth of tuition to Bailey's dog school, which I was going to drop out of due to upcoming moving expenses. Well, their investment totally paid off. On Saturday, Bailey passed her AKC Canine Good Citizen test, and last night she passed her dog school exam to officially graduate from the Humaner Trainer Canine Academy (I know, I know--not only am I dorky enough to send my dog to school, I am dorky enough to blog about it. You knew that though.)
Anyway she did so well last night that she was allowed to bring home Purple Squeaky Man.
Purple Squeaky Man was Bailey's absolute nemesis during focus exercises--squeak that thing near her and she'll break a stay every time. But not last night! No siree. Now she is carrying Man around with her constantly, and, shockingly, has not eviscerated him yet. Perhaps she is turning over a new leaf? Or perhaps she just loves Man.
The cables on the Sockapal2za socks are coming along--the Lorna's is showing them nicely, see?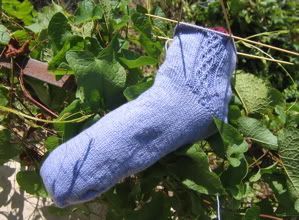 I think I might be done with this one by the end of the week. I had a breakthrough yesterday where I realized I didn't need the chart any more--that was satisfying, since it lets me go faster. But unfortunately, since the stitches are so small and fiddly, I do need a cable needle, which is slowing things down a bit. And what, you might ask, am I using for a cable needle on those tiny stitches? Well, they don't call it toothpick knitting for nothing.