Sockapal-whoops-a
Why, it's a finished Broadripple!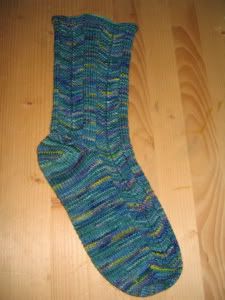 Doesn't it fit me well?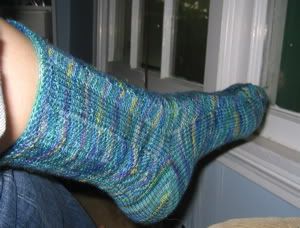 Good thing it does, because it doesn't fit my pal. Whoops. I had a moment of clarity wherein I realized that I think of my foot-length measurement the Priscilla Gibson-Roberts way, i.e. from the tip of the longest toe to the ankle bone (since that is where you stop knitting the foot and start making the heel). The Sockapal-2-za measurement, however, encompasses the whole length of the foot. So my pal's feet are actually the same length as my foot from toe to anklebone. The circumference
is
the same though--I'm not totally crazy.
So, the cabled periwinkle Lorna's it is. Actually, I kind of like having fate (or stupid maths) make this decision for me, since now I don't have to.