Things I Will Miss In Austin (Part 2), and a Finished Sock
3. Bailey's Dog Parks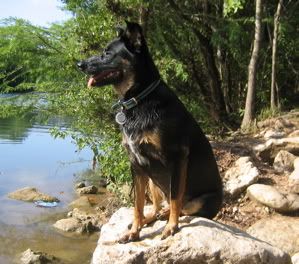 Austin has 13 leash-free parks, many of which incorporate creeks and lakes--just the thing for those 120-degree days. Our favorite is Redbud Island (pictured above), which is great because the dogs have the run of the whole entire island--play field, woody middle, and lots of mud (and ducks to chase) on the edges. As I've learned, Grand Rapids does have a dog park (and it even has its own
blog
), but it's only a fenced-off portion of a city park, and I'm afraid it just won't be the same.
4. Redbud Trees
Austin is covered with these in the spring (or the two brief weeks that pass for spring around here) and they make me so happy. I love a flowering tree. I know that there are actually plenty of equivalents in the north, so I won't feel totally deprived, but I will miss the redbuds.
*****
Sockapal-2-za sock #1 is finished!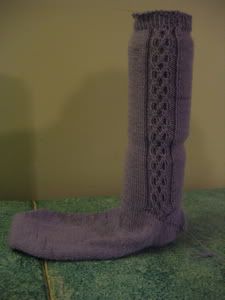 Sorry the pic is so dark--it showed the cable better than the shot with truer color. I'm going to have to figure out how to block these before I send them out; when they're not filled with diet coke cans (the leg is exactly 2 cans tall, although they'll be shorter once they're stretched around something wider than a diet coke can, e.g. a leg), they look like a crumpled mess, since the braid section pulls in so much. Has anyone used those plastic sock blockers? Are they adjustable for size?
Off to pack 4 boxes, and then I can start toe #2 as a reward. Packing. Bah.