The joy, the pain, and the meme
The Joy: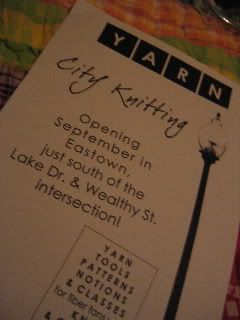 Walking distance, people. Walking distance. I peeked in the window the other day--there's shades, but with little spaces between them--and saw giant piles of Lorna's. I'll be needing some in green, please, for Anna's beautiful
Elfines
.
The Pain:
Oh my god. May I be a total girl for the moment, and say I. Have. Nothing. To. Wear.
Seriously. Closets full of clothes, and not a thing to wear, because all of a sudden, I have to dress like a grownup three days a week, and it is so not working out for me. Part of the problem (and it must be faced) is that I am in my fat jeans right now, so some of my wardrobe is out of rotation. Another part is that I actually have a decent fall/winter grownup wardrobe, but summer? Not so much. And the third part is, and I was discussing this with my friend Vim the other day (hi Vim!), I am in clothing limbo. I'm no longer the same age as my students, and therefore shouldn't really be dressing like them, but neither am I at the momly age of Eddie Bauer/J.Jill/Chico's. And I can't afford to shop at Banana or J Crew, which seem like the best in-between options. Dammit.
I tried today. I really did. I spent 3 hours at the mall, in an attempt to find something presentable to wear in the classroom tomorrow. This is what I came home with: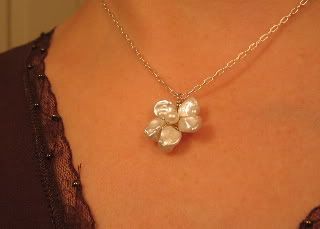 Ah, jewelry. It never makes you look fat.
Finally, The Meme:
Cordelia
tagged me with this one. I don't have time to do the whole thing now, but I'll try to work the rest into subsequent posts:
10 years ago:
I was just starting my senior year of college, happy as a clam to have my own car and my own apartment off-campus. Also, I was probably drinking a beer, since that is what I mostly did during my senior year of college. (Lest I sound like a total wastrel I will also point out that I pulled down 4.0 GPAs and played a varsity sport.)
5 years ago:
Starting my second year of grad school at UT. Finally finding my feet in Austin, partly because I had moved out of my craptastic little apartment that overlooked the highway into a lovely house in Hyde Park with fun roommates, and partly because I was finally making good friends. Note to self: that is how long it takes.
1 year ago:
Starting my fellowship year, and delighting in the fact that I didn't have do anything for the forseeeable future except write and play with Bailey. (Hence, no grownup clothes.) Also facing the fact that I had to go on the job market, which, as my fellow academics know, is no picnic.
Yesterday:
First day of school, i.e. first day of the REST OF MY LIFE. A bit daunting, when you think of it that way. Taught two of my three classes (the third is Wednesdays only) in what appears to have been my one grownup outfit. Um. Hung up a clock and some pictures in my office. Ate macaroni and cheese for dinner (see above re: fat jeans). Knit 3 repeats on the Sockapal2za sock. (Knit one more today: 9 down, 3 to go.)