Yarn-anza
As some of you deduced from comments left by real-world friends, it was indeed my birthday last Friday: 31. Thank you for all the nice wishes! 31 was not quite the momentous occasion that 30 was, but that's really for the best; I have to admit that 30 was a little bit of a crisis birthday for me, although I'm not sure exactly why, but 31 just seemed like business as usual.
What was not business as usual is that on a usual day people don't just hand me buckets of yarn and yarn-related items, but last Friday they did: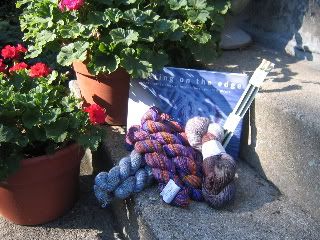 In the back, Knitting on the Edge, which I'm excited about, and on the left, absolute piles of Koigu, all from my parents. Yay for wishlist.com! On the right, a skein of Lorna's Laces Lion & Lamb in Mineshaft and a pair of ebony Lantern Moon needles from Marc. Hmm...does this mean I am destined to make....(dum dum dum) The Clap? I swore I wouldn't. But when someone just up and gives you some Lion & Lamb, it starts to seem fated. Of course, I'd have to track down 3 more skeins.... Anybody have any good ideas for one skein (205 yds) of L&L, other than holding it on my lap and petting it like a kitten, not that I or anyone I know would do that. (Meanwhile, when we're actually dating I get a crockpot for Valentine's Day, but now that we're broken up I get superfancy yarn and needles? Things are askew.)
But in the end, I think the best yarn-related gift of all, if only because it will save me so much time out of my life, is my lovely new umbrella swift, here seen happily churning out a center-pull ball of Koigu. Delightful!
Isn't that yellow paint cheerful, by the way? That is another good thing about my apartment: it has a cheerful yellow dining room. Unfortunately, all that dining room has in it now is a swift, but I'm hoping that will change soonishly.
And another good thing about Michigan in general: it gives me access to PONIES!! Bailey and I were invited today to the house of one of my new colleagues, who lives out in the country and has two dogs, a rabbit, two ponies and four horses (and a spinning wheel, a loom, and plenty of knitting accoutrements). Which really is my idea of paradise. So today Bailey met her first horse. You can see how thrilled about it she was: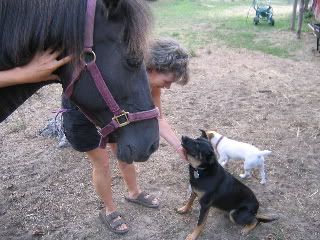 Erm, not. However, she warmed up later when one of the horses slobbered his feed all over the barn floor and Bailey hoovered it right up. She was still a little afraid of him afterwards, but appeared to think he was giving her treats, which, in the end, is all you need to do to get Bailey on your side, because she is a little bit of a piglet. Anyhoo, we are invited back to go riding soon, so perhaps she become a horse dog in the end. Keep your fingers crossed....