Yarn makes things better.
Moving + breakup + sad family news + extremely vicious head cold have all conspired to keep me from blogging. Just haven't felt much like it, and haven't had much to blog about, knitwise. Not that I haven't been knitting--I finished the back of my
Secret Gift Project
, which felt accomplish-y (but perhaps I should finish the front before I feel truly accomplished), but since it's secret, it doesn't make for especially good blog fodder.
But yesterday, I thought to myself, "self, what cheers you up better than a trip to a yarn shop?" And since I have long thought that one of the big plusses to moving to Michigan was the relative proximity of the glorious
Threadbear Fiber Arts
, I hit up Mapquest, hopped in my car ($2.70 gas notwithstanding) and off I went to Lansing, Michigan. Yep, it's about an hour away. Yep, it's totally worth it. (Plus I used the time to listen to the ever-delightful Sarah Vowell's latest, Assassination Vacation, on the Pod.) First of all, Matt and Rob were just as nice as pie--I hadn't been in the store three minutes before Matt came up and to say hello and introduce himself and his little Tater Tot of a dog, who sat right down on my feet and demanded pats, which I was happy to provide. I love me a yarn store dog, I must say, although one time Stella at Hill Country Weavers did decide to use the skein of Koigu I was toting around as a tug toy. Anyway, super nice people, who UNDERSTOOD (Rob: "So where did you move from?" Me: "Austin" Rob: "Ohhhhhh. Sorry.") and who, I guess more importantly, had a phenomenal selection of yarn AND a phenomenal sale--15% off everything. Whee! Sale! I will admit that it crossed my mind to pick up a
Colinette Ab-Fab throw kit
, but I held firm. (Honestly I think most Colinette yarns look like expensive barf, but I, like my style guru
Anna
, love me an Ab-Fab throw.).
Instead I picked up a bunch of loot for my secret pal: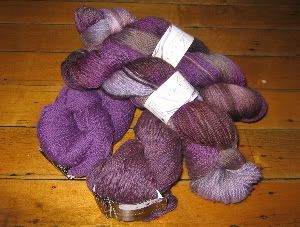 And, naturally, a bunch of very fall-themed loot for me:
Shepherd Sport in yummy yummy chocolate, and a buttload of Misti Chunky Alpaca in a sort of tomatoey-burnt orange color. This yarn--so soft, so lofty, so impossible to resist. Seriously, I touched it, and that was it. I had no choice. I drove home with my hand buried in the bag that it was in. I dare you: if you ever see some of this in a store, touch it, and then don't buy it. You won't be able to. Sure, it's sheddy and probably it's going to pill like a mofo, but I. Don't. Care.
It is becoming something that I have had bookmarked for a while, but hadn't found the right yarn for:
Cozy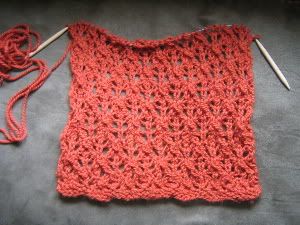 Mmmm. Cozy indeed. I can't wait to be snuggled up in this on a crisp fall day at the
farmer's market
.