Sockapal-2-za: So close! and yet so far...
I was far too ambitious in my plan to complete my second Sockapal-2-za sock while I was on vacay. I did get the foot done while I was away, though, and now I'm five pattern repeats into the 12 that make up the leg. Voila: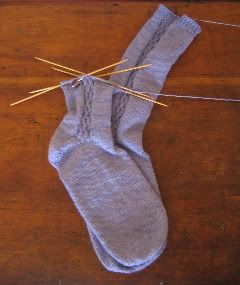 7 repeats left is nice, because it means that even if I only do one a day, I'll still be done in a week. And I imagine that I'll do more than one a day, so I'm on schedule. They are being mailed abroad, so I'd like to be done sooner rather than later, but I have been swamped with real actual work for school. The first day is tomorrow, and I still have to finish the syllabi for two of my classes. Shameful really. Back to work for me...